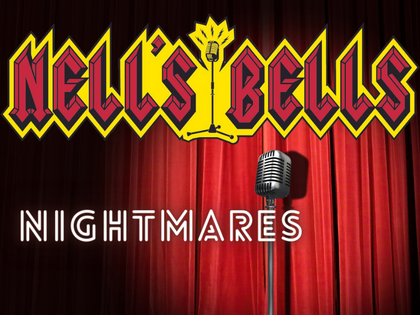 Nell's Bells Comedy Festival: Nightmares
Nell's Bells Comedy Festival: Nightmares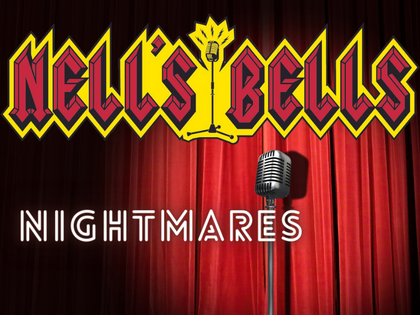 An interview show hosted by Emily Flake and Kat Burdick, featuring some of your favorite people talking about their least favorite dreams. Come see multidisciplinary genius Jean Grae, cartoonist and standup Jason Chatfield, comic, actor, and screenwriter Jordan Carlos, and comic Dan Wilbur as Kat and Emily explore the deepest reaches of their psyches!
Kat is a portrait photographer, writer, artist, and comedian, and a MOTH Grand Slam Champion.
Emily Flake is a cartoonist and a writer for the New Yorker, a sex columnist for the AARP'S site for Gen X men (yes, really!), an illustrator, a performer, and the founder of St. Nell's Humor Residency here in Williamsport. She is the author of several books, including the forthcoming Joke in a Box, a gag-cartooning creativity deck (October 2023, Andrews McMeel). She makes her primary home in Brooklyn but is in Williamsport as much as possible.
Jean Grae, in her own words: "I make things. I have unlimited interests and a vast amount of varied skills. I'm a multipotentialite. At this age, I've learned that the most important thing is – being happy. Building relationships and connections. Building skill sets I love. Spending time with people I love and spending even more time.. doing things I love. Exclusively. That's it. Are you into THINGS? A lot of my concentration will be design, fabrics, textiles, but I can't say that there won't be puppets. or learning the theramin. Or going to law school. Or traveling the world solo, or with friends. Or skin care and hair care. Or powerlifting. Or running for mayor. Or food. There's more on the list and I can't limit myself, so generally…. a lifestyle? I'm non binary and queer. My pronouns are she/her/The Monarchy/Mx. Life is short. Have a good fucking time. Thanks for being here!"
Jason Chatfield is an Australian cartoonist and comedian based in New York. He is Australia's most widely-syndicated cartoonist, producing the iconic 102 year-old comic strip Ginger Meggs which is syndicated daily in over 30 countries through Andrews McMeel Syndication. He is the portrait illustrator for Waking Up, the award-winning meditation app created by Sam Harris. Chatfield is the current President of the National Cartoonists' Society (Est. 1946) and is a past President of the Australian Cartoonists Association (Est. 1924). he is the youngest cartoonist to ever hold either of these positions. His cartoons have appeared in The New Yorker, The Weekly Humorist, American Bystander, Wired, Esquire, Airmail, Variety and MAD Magazine among others.
Jordan Carlos is a stand up comedian, and actor, who is currently co-starring and writing on the first season of "Everything's Trash" (Freeform). He has also written for "Divorce" (HBO), written/performed for "The Nightly Show With Larry Wilmore" (Comedy Central), and "First Wives Club" (BET). He also appears on the current season of Black Mirror (Netflix), and the Home Alone reboot on Disney Plus. In addition, Jordan co-hosts the hit podcast "Adulting" on Exactly Right Media with Michelle Buteau. Other notable writing credits include "The White House Correspondents Dinner" (2016) as well as "The Not The White House Correspondents Dinner" with Samantha Bee (2017).
Dan Wilbur is a comedian and the author of 2 humor books, How Not to Read (Penguin) and Never Flirt with Puppy Killers (AM Universal). His work has been featured on Sirius XM, College Humor, McSweeney's, The Onion News Network, the RISK! podcast, and Someecards (where he was also the Ecards Editor). He's been featured in sketches for College Humor, IFC, MTV, Funny or Die, and Distractify (one of which ended up on The Today Show). He has performed stand-up for over 15 years and has been featured in comedy festivals in Boston, Cleveland, New York, Austin, Salt Lake City, and North Carolina. Dan recently opened for Patton Oswalt in Madison, Grand Rapids, and at the Beacon Theatre in NYC. His first album, Husband Material, is out now on Ghost Runner Records.