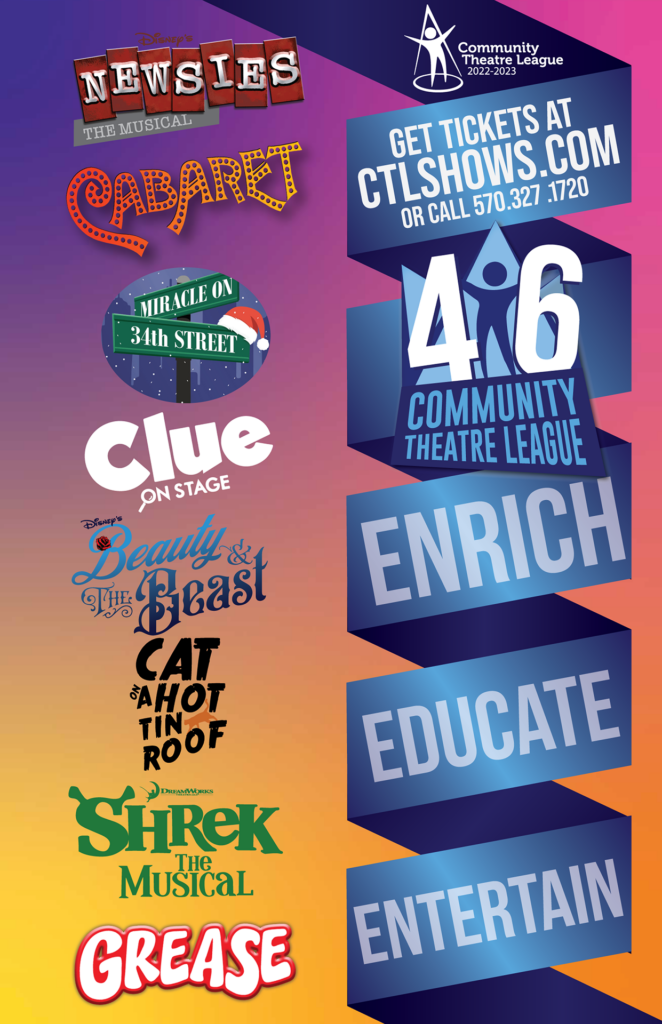 Season Sponsored by Hudock Capital Group LLC.
The Community Theatre League is proud to present it's Blockbuster 46th Season. The Blockbuster titles for this for season 46 are some you have definitely heard of before. This season also examines the inevitable changes in life. Whether its world events changing for better or for the worse, the delusion of not accepting change, or the rejoicing that change in perception is possible and can even lead to Happily Ever Afters!
For more information on our 46th Season call 570.327.1720
THEATRE POLICIES
Cell phones must be silenced during performances.
Be courteous to the cast and other patrons.
Cameras and other recording devices are prohibited.
Smoking is prohibited.
Hearing assistance devices are available at the box office.
Latecomers will be seated at the discretion of the box office.
Patrons who must leave the theatre during the performances are asked to do so only at appropriate breaks and not during the action. Re-entry will occur at the discretion of the box office.
All patrons 1 year and over are required to purchase a ticket.
THEATRE SEATING
The Community Theatre League features theatre-in-the-round seating that is sure to make your experience a memorable one.
Special Needs & ADA Seating
The staff of the Community Theatre League is dedicated to providing a comfortable and enjoyable experience for all of our patrons.
Wheelchair Seating
Tickets are available upon request and are subject to availability. The Community Theatre League has a variety of accessible seating for wheelchair patrons and their companions.  Patrons should call the Theatre Box Office for more information.
THEATRE RENTALS
Consider The Community Theatre for your next business meeting or presentation!
The Community Theatre League offers…
A meeting facility with 167 comfortable seats with tablet arm rests for great visibility (extra seating available)
Convenient central location in the McDade Trade and Transit Centre, Downtown Williamsport
Additional space for small group discussions or break-out sessions
A fully-integrated light and sound system with Powerpoint, DVD and Video capabilities
Handicap access
Lobby use for refreshments
Convenient parking in the deck across the street
Classy alternative to board rooms or hotels
Contact our Technical Director, Phill Haney at PHaney@CTLshows.com for rates and non-profit discounts.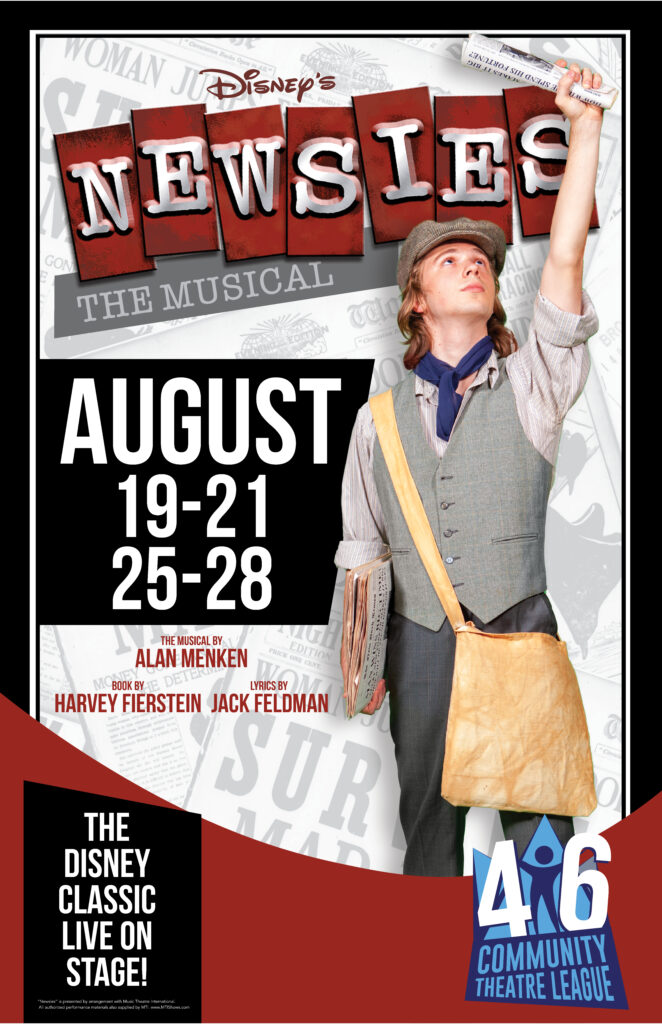 Disney's Newsies: The Musical
Director: Steve Aguirre | Music Director: Amanda Haney | Choreographer: Katie Conklin 
Based on the real-life Newsboy Strike of 1899, this new Disney musical tells the story of Jack Kelly, a rebellious newsboy who dreams of a life as an artist away from the big city. After publishing giant Joseph Pulitzer raises newspaper prices at the newsboys' expense, Kelly and his fellow newsies take action.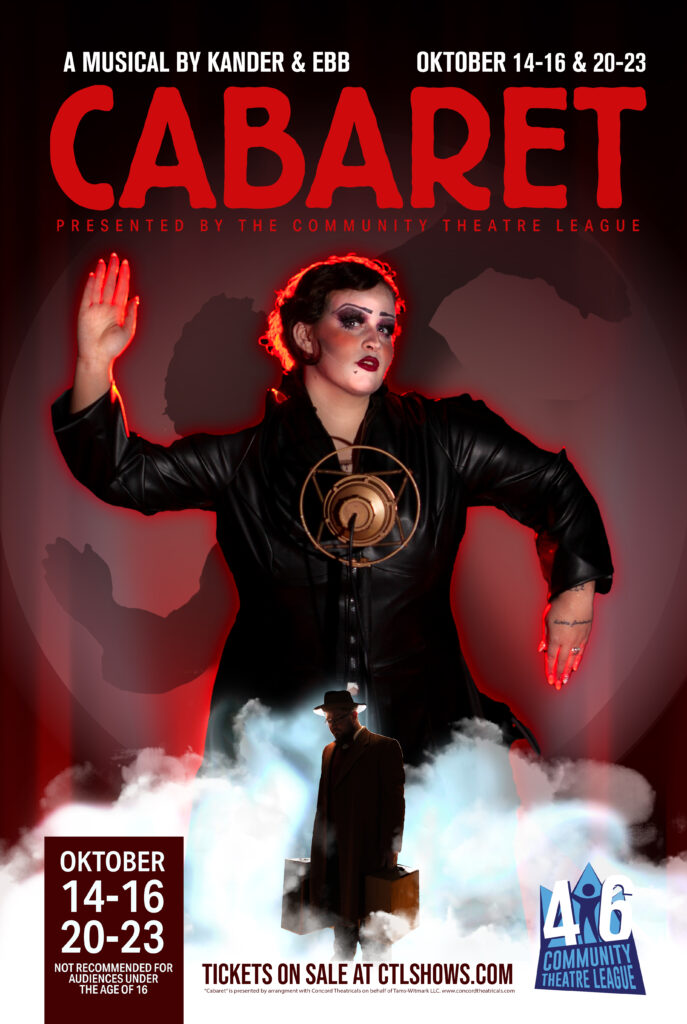 Director: Seth Sponhouse | Music Director: Marisa Hickey | Choreographer: Christianna Gula 
In a Berlin nightclub, as the 1920's draw to a close, a garish Master of Ceremonies welcomes the audience and assures them they will forget all their troubles at the Cabaret. With the Emcee's bawdy songs as wry commentary, Cabaret explores the dark, heady, and tumultuous life of Berlin's natives and expatriates as Germany slowly yields to the emerging Third Reich. Cliff, a young American writer newly arrived in Berlin, is immediately taken with English singer Sally Bowles. Meanwhile, Fräulein Schneider, proprietor of Cliff and Sally's boarding house, tentatively begins a romance with Herr Schultz, a mild-mannered fruit seller who happens to be Jewish. Musical numbers include "Willkommen," "Cabaret".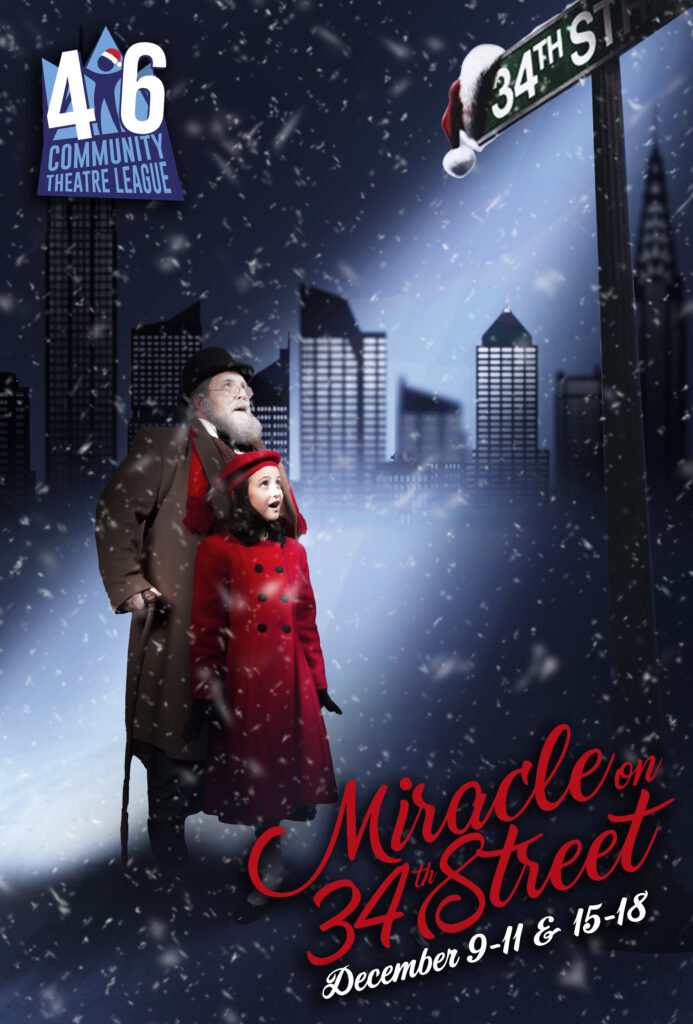 Director: Tara Deljanovan
Kris Kringle, an old man in a retirement home, gets a job working as Santa for Macy's. Kris unleashes waves of good will with Macy's customers and the commercial world of New York City by referring parents to other stores to find exactly the toy their child has asked for. Seen as deluded and dangerous by Macy's vocational counselor, who plots to have Kris shanghaied to Bellevue Psychiatric Hospital, Kris ends up in a court competency hearing. Especially at stake is one little girl's belief in Santa.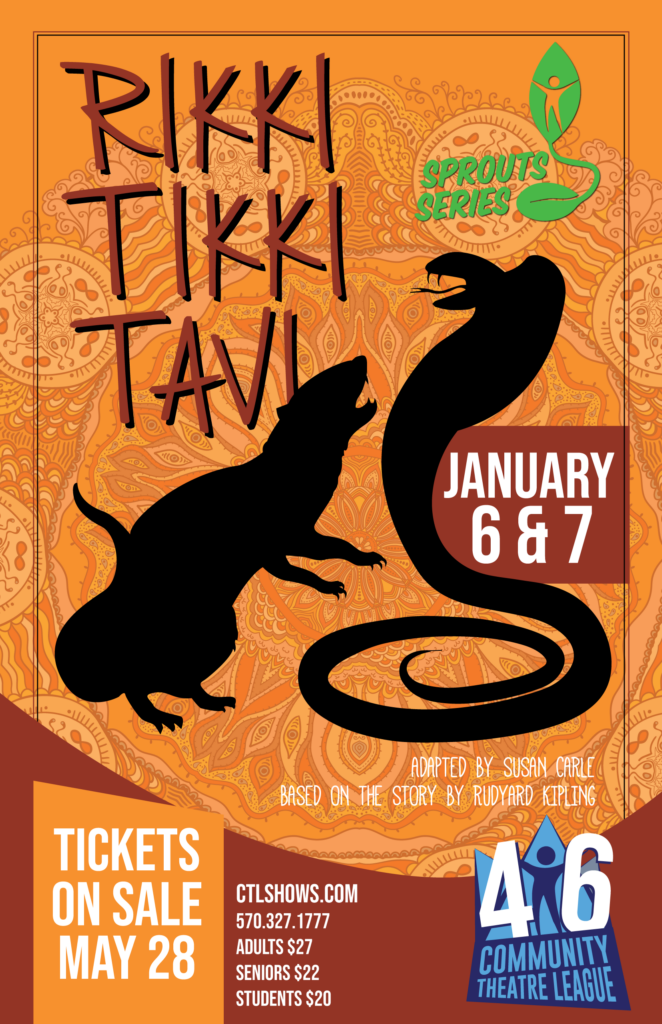 Rikki-Tikki-Tavi (SPROUTS)
January 6-8 | AN OPPORTUNITY FOR STUDENT ACTORS TO SHINE ON STAGE!
Director: Nina White 
Based on the tale from Rudyard Kiplings "The Jungle Book", "Rikki Tikki Tavi" recounts the story of a British family in old India that is in jeopardy from marauding cobras in league with Shere Khan, the arrogant tiger. Only the families loyal pet mongoose Rikki can save them, and he does so in a surprising way.
Director: Marie Fox
A comedic play written by Sandy Rustin. It's inspired by the classic board game and based on the 1985 movie by Jonathan Lynn. One night in 1954, six strangers find themselves invited to a mysterious dinner party at Boddy Manor. Secrets are revealed, people are killed, and plenty of insanity ensues.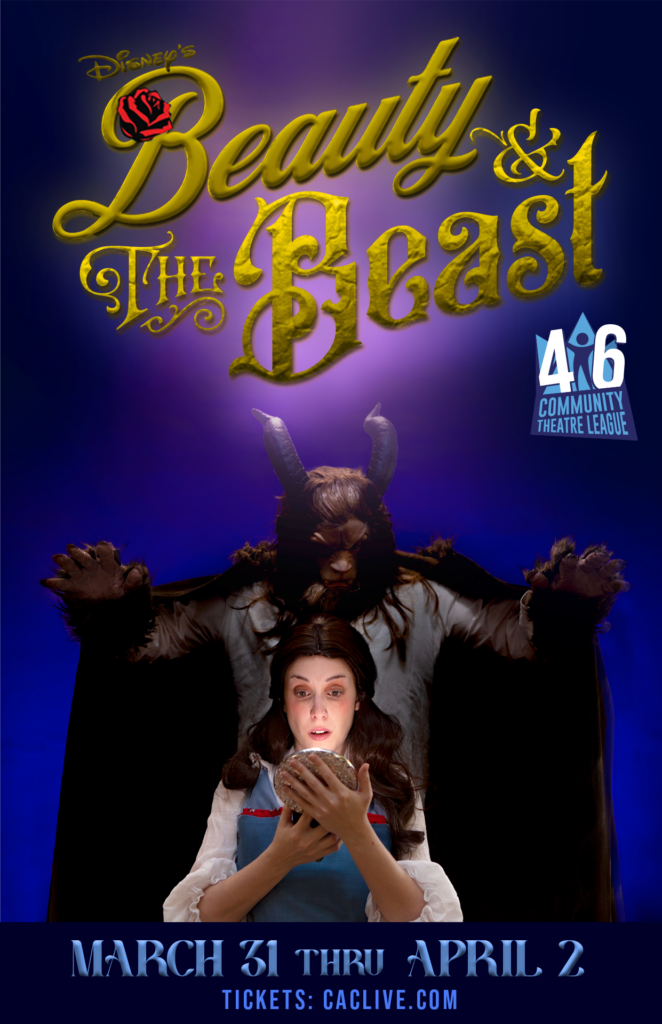 Disney's Beauty & The Beast the Musical
March 31-April 2 | LIVE ON THE COMMUNITY ARTS CENTER STAGE!
Director: Seth Sponhouse 
Step into the enchanted world of Broadway's classic, Disney's Beauty and the Beast, an international sensation that has been produced in 37 countries worldwide. Based on the Academy Award-winning animated feature, the classic story tells of Belle, a young woman in a provincial town, and the Beast, who is really a young prince trapped under the spell of an enchantress. If the Beast can learn to love and be loved, the curse will end and he will be transformed into his former self. But time is running out. If the Beast does not learn his lesson soon, he and his household will be doomed for all eternity.
Don't forget! Before the show get your chance to meet the stars of our show and grab a picture with Belle and some of her favorite friends! Meet and Greet passes sold seperately and can be found on the CAC website.
Photos must be taken by patrons own personal cameras or phones – photos will not be provided by CTL or CAC.
To participate in the Meet and Greet you must ALSO have tickets to that nights performance.
For 7:30 PM curtains, Meet and Greet will last from 6:40 – 7:20 and for the 2:00 PM curtain the Meet and Greet will last from 1:10 – 1:50. 
Space is limited so don't wait!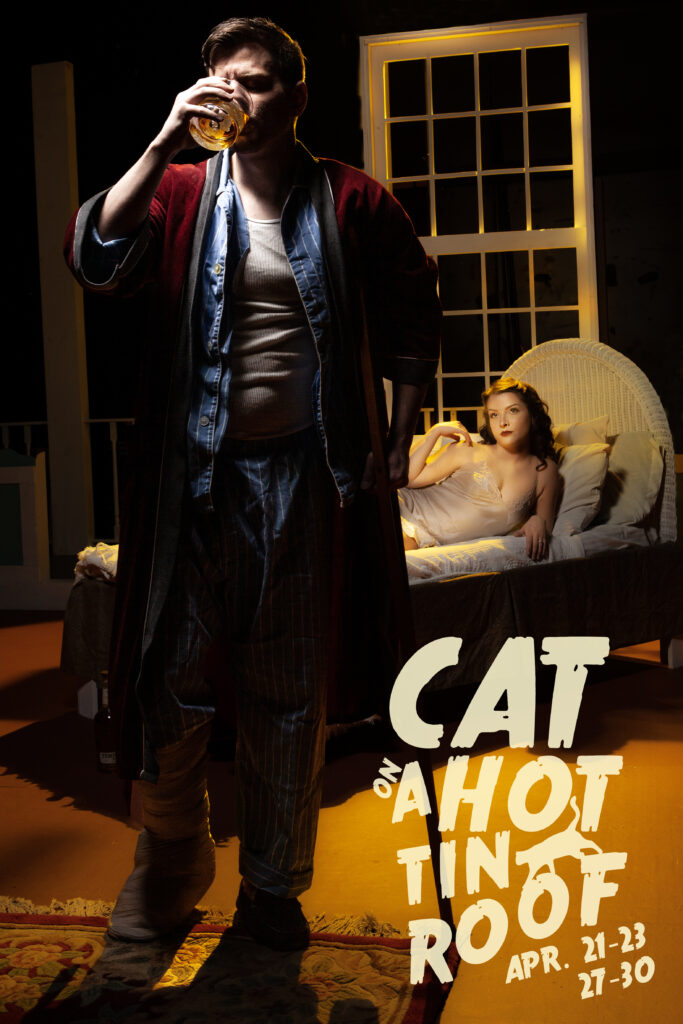 Tennesee William's: Cat On A Hot Tin Roof
April 21-23 & 27-30 | Pulitzer Prize Winner for Drama Sponsored by: Hudock Capital Group LLC.
Director: Derek Scott 
In a plantation house, a family celebrates the sixty-fifth birthday of Big Daddy. Hopes for the future spar with one another as the knowledge that Big Daddy is dying slowly makes the rounds. Maggie, Big Daddy's daughter-in-law, wants to give him the news that she's finally become pregnant by Big Daddy's favorite son, Brick, but Brick won't cooperate in Maggie's plans and prefers to stay in a mild alcoholic haze the entire length of his visit. Swarming around Maggie and Brick are their intrusive, conniving relatives, all eager to see Maggie put in her place and Brick tumbled from his position of most-beloved son. By evening's end, Maggie's ingenuity, fortitude and passion will set things right and retrieve Brick from his path of destruction.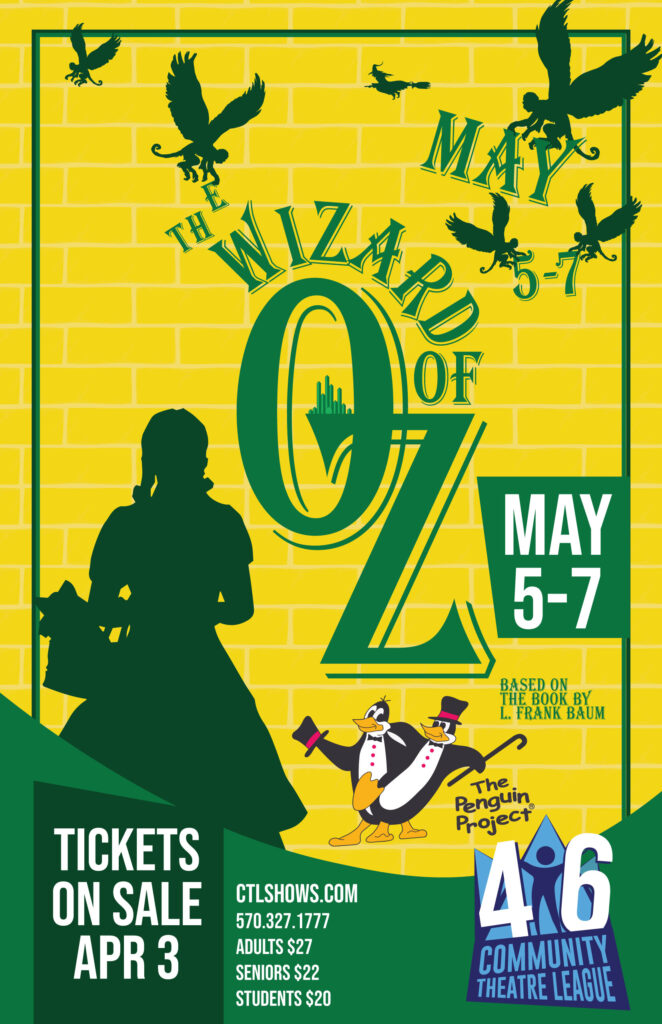 Director: Heather Myers
Based on the book by L.Frank Baum and the 1940 Academy award winning film for Best Music and Best Original song. The Wizard of Oz tells the tale of a wistful young girl (Dorothy Gale) from Kansas who dreams of a better life "Over the Rainbow". When she is transported to the magical land of Oz she learns her only way home is a quest to meet the Wonderful Wizard of Oz. Along the way she meets new friends who accompany her on her journey. Along the way they come to learn there is no place like home.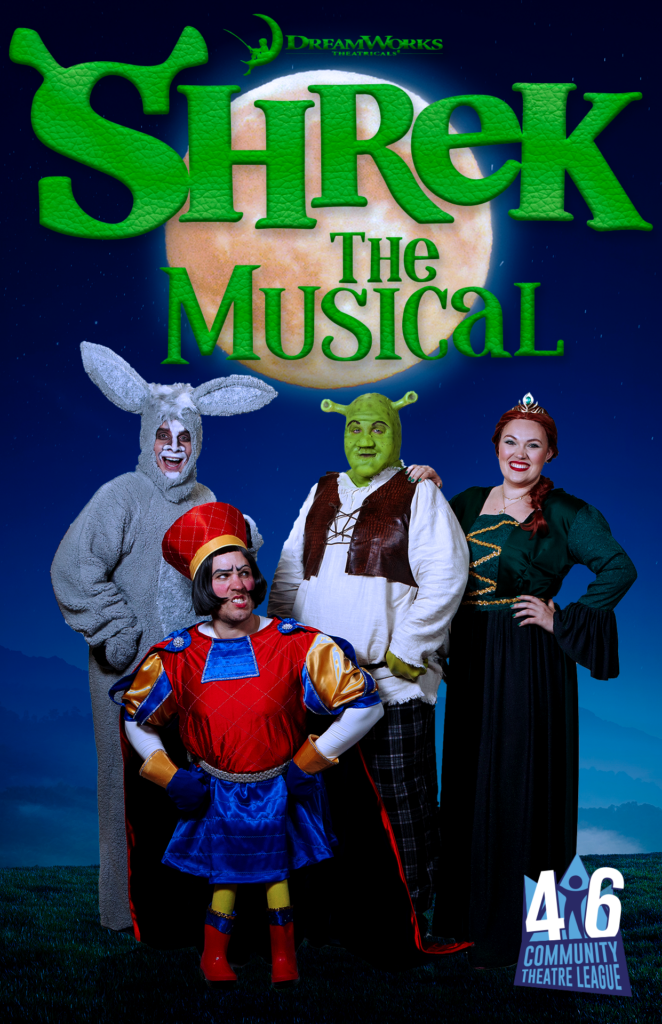 Director: Denise Clark 
"Once upon a time, there was a little ogre named Shrek…." Based on the Oscar-winning DreamWorks Animation film, Shrek The Musical is a Tony Award winning fairy tale adventure, featuring all new songs from Jeanine Tesori and a sidesplitting book by David Lindsay-Abaire. Shrek brings all the beloved characters you know from the film to life on stage and proves there's more to the story than meets the ears.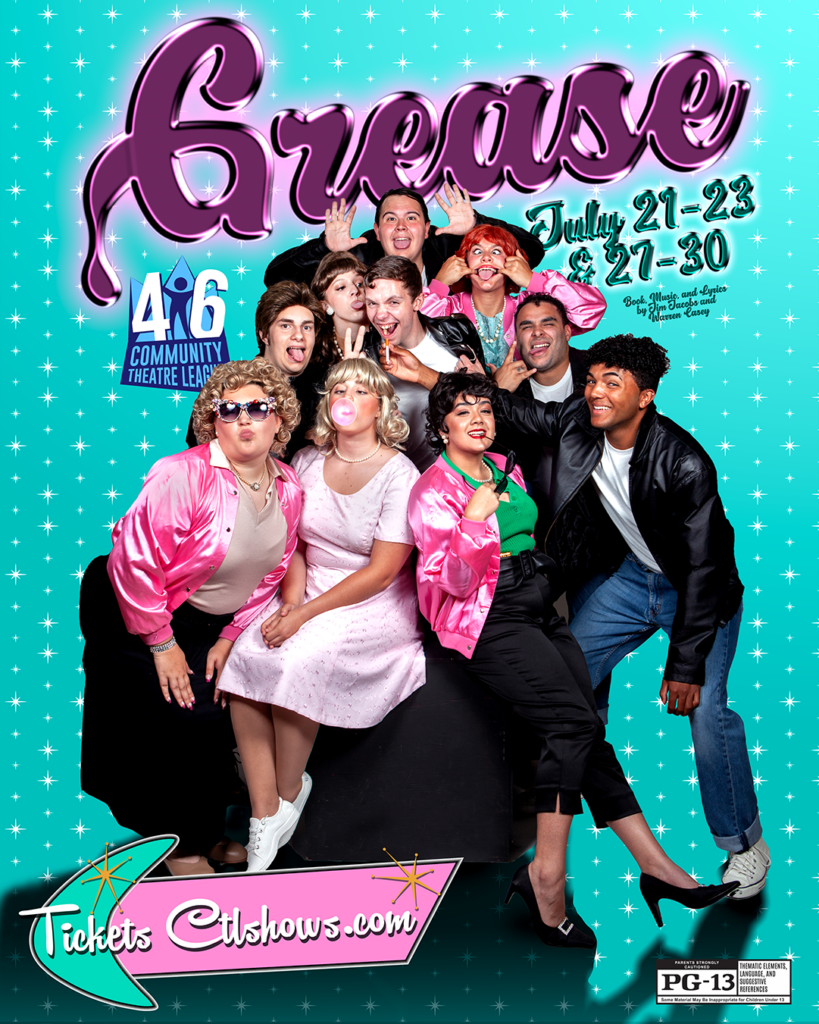 Director: Katie Conklin
Grease is the word…have you heard?! Rydell High's spirited class of '59-gum-chewing, hub-cap-stealing, hotrod-loving boys with D.A.s and leatherjackets and their wise-cracking girls in teased curls, bobby sox, and pedal pushers-capture the look and sound of the 1950s in a rollicking musical that salutes the rock 'n' roll era. While hip Danny Zuko and wholesome Sandy Dumbrowski resolve the problems of their mutual attraction for each other, the gang sings and dances its way through such nostalgic scenes as the pajama party, the prom, the burger palace, and the drive-in movie.
SPECIAL EVENTS AND CONCERTS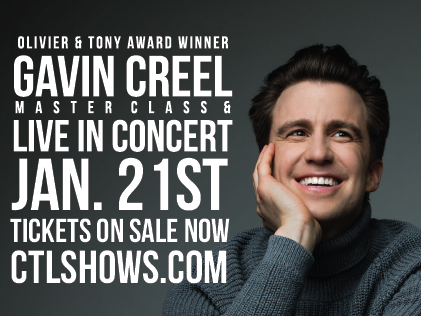 The Community Theatre League's 5th Annual Signature Fundraising Event! 
Generously sponsored by UPMC and Robert M. Sides Family Music Center
Do not miss this year's BROADWAY star on our Mainstage! 
Our star performer will be announced and the full theatre will go on sale – December 2nd! BUT don't wait – secure your $35 seats TODAY! 
Once tickets go on sale, seats will be available for $40, $60 and $80 – all of the ticket proceeds go towards helping CTL produce our 6 annual Mainstage productions this season!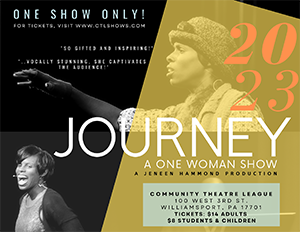 CTL & Tell YO Story present JOURNEY A ONE WOMAN SHOW
February 3, 2023 @ 7;30PM
THE KICK-OFF EVENT FOR "TELL YO STORY" A NEW PROGRAM AT CTL

"Journey" is a beautiful collection of heartwarming personal stories, soulful renditions of traditional and Gospel spirituals woven into a compelling drama that revives the beauty of life, faith and cultural history.
Suitability: General audiences.  This is a family-friendly show.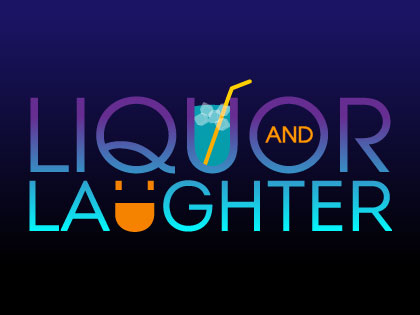 Saturday January 28, 2023 @ 7:30PM
Come join CTL as we laugh the winter blues away! … with a cash bar, a comedy troupe under the esteemed direction of Marie Fox and some opening musical acts – this is a night that will have you laughing from start to finish!
***Not recommended for children under the age of 18***